Day 3: Aegina
Sunday, May 23rd, 1999
We awake to find that the luggage has yet to arrive, the helpful and courteous airline representative assures us that they are doing everything they can to get the bags delivered. As this throws a significant wrench into our plans (we had planned on heading out for Northern Greece this morning) we decide to occupy some of our time by taking a day trip to the Island of Aegina.

We take a taxi to the port of Pireas where we sit at one of the local Tavernas and wait for a lift to the island on the Flying Dolphin. As we had a little time to kill, we decide that this is as good a time as any to order some cheese, olives, fresh bread, and a couple of the local brews. The fact that it is only 9 o'clock in the morning doesn't even phase us. This became a regular occurrence. It was at this location that my Dad overheard a new usage of the word 'pragmata'. This piece of information may appear to be somewhat trivial, but to my family it is extremely significant.

We arrive at Aegina around 10:30 a.m. and secure a vehicle from one of the local businesses. I use the term 'vehicle' very loosely. It was a faded pink two-door without air conditioning or power steering. Dad and I sit in the front seat with our knees jammed into the windshield, Niki and Mom in the back practically on top of each other. We all have a good laugh and decide that this is just another part of the adventure.

We drive around the entire island from village to village, occasionally we stop to talk to some of the people or to snap pictures of Pireas in the distance. At one point while I was driving, we ended up on a tiny road on the side of a mountain. The road was no bigger than a golf-cart path. Somehow, we make it through.

We stop for lunch along the water in a village called Souvala. Fantastic meal! Fresh calamari, pasticcio, and a beautiful view of the ocean.


Once back in Athens, we decide to take the rental car and drive to Cape Sounio and the Temple of Poseidon. This spot is said to be the most impressive place in the world to view the sunset. From what we witness, there is no question.

Another fantastic meal in Athens at a restaurant across the street from the Acropolis called Dyonisos. Very classy place where we are catered to by a team of waiters in white tuxedos. We are once again amazed at how much we can eat. I think the wait staff was pretty impressed as well.
[ Back ] [ Up ] [ Next ]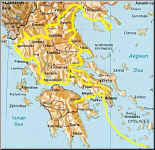 View Map